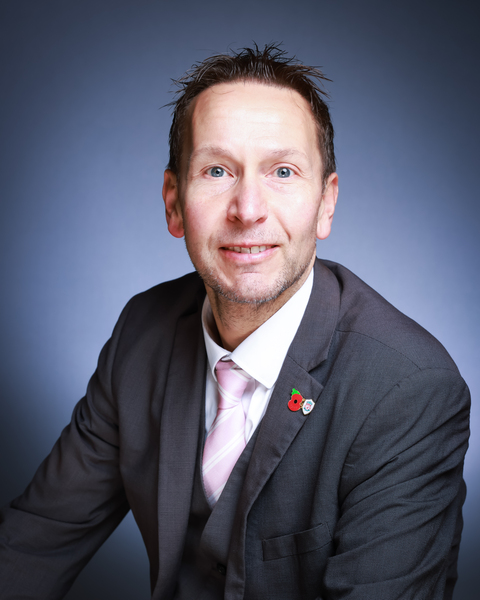 WE LOOK FORWARD
TO MEETING YOU
I am proud to introduce myself as the Headteacher of Bloxwich Academy.
We have very high expectations for all our pupils and expect their conduct and behaviour, both within the academy and in the local community, to be exemplary.
We encourage everyone 'to be the best they can be' each and every day with pupils taking pride in their standards of uniform and equipment.
We are aspirational for all our pupils and this is noted in our excellent progress results in Year 11 and 13.
Our website is an important source of information and communication, holding a wealth of detail regarding the day to day running of the Academy.
I am delighted that you have chosen Bloxwich Academy for your child's next step into education and I look forward to welcoming them on their journey with us over the forthcoming years.
-------------------
Important Dates:
Friday 7th July: Completion of the Testing day authorisation form – Bloxwich Academy Primary do not need to complete this
As you start to think about leaving Primary school and the move to Secondary school, you should remember why you chose Bloxwich Academy.
Our school community is proudly diverse and we do not tolerate bias, prejudice or discrimination of any kind – whether conscious or unconscious – and we instil in our pupils nothing less than the urge to go out into the world and make it a better place.
At Bloxwich Academy we are proud that our pupils embrace the Bloxwich values in everything they do. Our Values Representatives help to promote our core values; each value is linked to the British values. Read More HERE.
Uniform Expectations
Dress for Success
What Will I Learn?
You will study a varied and exciting curriculum. Click the button below to see what you will be learning about in each subject. In addition to your subjects, some pupils will have extra literacy, numeracy and spelling support.
House System
When you start at Bloxwich Academy you will be placed into a 'House'. This will be like your family at school and your Head of House will monitor all of your successes and any areas you might struggle with.
They will contact home to discuss ways in which we can work together to ensure that you achieve your best.
If you have any worries on a day to day basis, you'll be able to talk to your Form Tutor who will work with your Head of House to help you resolve them.
Breaktime
At school you will have a 20 minute break in the morning. You can socialise with friends in the courtyeard. If you want to buy food, you can purchase and eat refreshments in the dining room.
Lunchtime
All of Year 7 have lunch at the same time so you will be able to see your friends. You can buy a meal deal which includes a drink for £2.20. You will need money on your Wisepay account to buy refreshments.
You can bring a packed lunch or buy a sandwich or sub roll at lunch time. Members of Leadership will be on duty during break and lunch time. You can view the school's menu at HERE.
Where to Go?
Click HERE for an overview of the school site so you can see where some of our departments are located.
Many new pupils worry that they will get lost at secondary school. However, it is very easy to find your way around, as each block is recognisable by a letter.
Learning Modes
To continue to maximise learning time and promote positive engagement in lessons, we use Learning Modes to ensure pupils are aware of expected behaviours in each classroom. The learning modes are designed to support the transition from lesson to lesson and to drive resilience and focused learning across the curriculum. The learning modes with be visible on the lesson PowerPoints to show the pupils which mode they are required to be in at different stages in the lesson. Please see the learning mode breakdown for clear and detailed information regarding the expected behaviours in each of our lessons.
Contact Home
Our school must be seen as part of a wider community which includes parents, carers, friends and neighbours, upon whose cooperation we depend.
We feel that home-school contact is important if pupils are to obtain the full benefit from their education. If you wish to contact the school on any matter, please write to or phone your child's Head of House or email: postbox@bloxwichacademy.co.uk.
If you wish to see the Headteacher about a most serious matter, please write to, email the school postbox or telephone and make an appointment for a mutually convenient time. Relatively routine matters should always be referred to the Head of House in the first instance. Conversely, if serious problems present themselves at school, the Head of House or a senior member of staff will ask to see you. If this happens, the problem is serious and we ask for your full support in the interests of your child.
The school Newsletter and school letters are published electronically on our website to keep you informed about all school matters. We use a text messaging service to share updates with parents and carers. It is pivotal that you ensure the school has your most up to date contact details at all times to enable us to communicate and update you via our text message service.
Progress Evenings
Parents are expected to attend all Progress Evenings which are held virtually for each year group. Details will be sent out in advance and these meetings are seen as a vital part of the communication process between home and school. Other information evenings are also held for parents and details are published separately for these events on our school website.
At your child's virtual Progress Evening you will have the opportunity to meet your child's teachers and discuss their progress. If for any reason you are unable to attend your child's Progress Evening, please inform the school. However, research has shown that children of parents who attend benefit greatly and we would urge you to support your child in this way.
Dates and times for virtual Progress Evenings are published on the school's website. All appointments are booked and take place using an online platform, meaning that you will attend meetings online from anywhere that is convenient to you.
Homework
All pupils are required to do homework and it is expected that parents will ensure that an area at home is identified as suitable for completing homework.
Years 7 and 8 will receive at least 20 mins of English, Maths, Science and French each week. They will then be given Home Learning Assignments- 3 week projects for all other subjects on a rotation. This will be in the form of a booklet.
Find out if you are eligible for Free School Meals
Using Your Planner
On your first day you will be issued with a planner.
You will use this to:
Record a copy of your personal timetable.
Make of note of homework that is set and when it is due.
Show your parents/carers what work is being set and pass messages to your Form Tutor.
Record any detentions that might be set.
Record any Catch Ups or Redo sessions with your teachers.
Your parents/carers will sign your planner every week to show that they have seen all of your homework and to confirm that you have passed on any messages.
You will be able to collect praise points from your teachers and staff for your effort, behaviour and work as well as your contributions to school life.
Praise will be recognised by your Form Tutor, Head of House and Leadership.
Frequently Asked Questions
Contact Info
Secondary School
Leamore Lane
Bloxwich, Walsall
West Midlands
WS2 7NR
T: 01922 710 257
postbox@bloxwichacademy.co.uk
Secondary SENDCo – Miss M Rock
Monday - Thursday: 8:00 am - 4:00 pm
Friday: 8:00 am - 3:30 pm
Copyright 2023 © All Rights Reserved