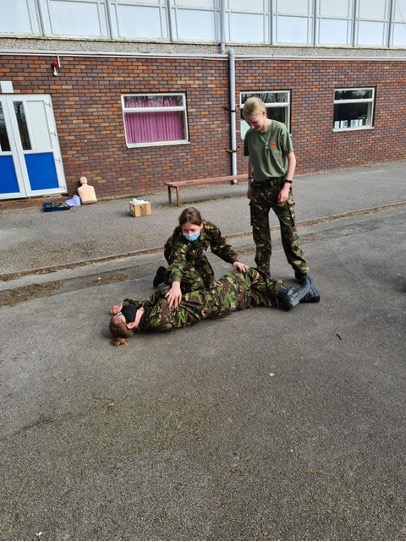 This term, training has continued under some very challenging circumstances but this has not deflated the enthusiasm of the cadets and staff at Bloxwich Academy.
The Senior Cadets and Corporals have being conducting online lessons to achieve their part 2 status. This enables promotions to Leading Cadet, Senior Cadet and promotion to Corporal.
The senior team have also being delivering lessons to the Year 8 cohort, as five of the senior team have recently passed their instructor qualification. The instructor qualification allows the instruction to wear a gold lanyard on their uniform in recognition of the gained qualification.
With the lockdown roadmap in place from the government and RAF headquarters there a few training events planned for when the cadets are released from lock down restrictions, these include a Year 8 trip to RAF Cosford museum, a senior cadet visit to the helicopter museum, and a rock climbing trip on the Welsh boarder. The CCF at Bloxwich Academy owns its own climbing equipment and the cadets want to put into practice what they have learnt so far in the school gym on a live rock face!
During lockdown the Contingent Commander (Mr Hall) has been promoted to Flying Officer up from Pilot Officer.
To keep up with demand for face-to-face training the school are running two Wednesday training sessions during the Easter break. This just shows the dedication of the cadets and their Adult volunteer staff and officers.
The CCF is open to pupils of the school once they reach Year 8. Some Year 7 pupils are already trying to reserve places on next September's intake!
The Contingent Commander, Officers, SSI and Cadets thank you for your continued support.
Flying Officer Hall,
Contingent Commander,
Bloxwich Academy Combined Cadet Force (RAF)