Cornerstones Curriculum 2021
Bloxwich Academy Primary
Here at the academy we will be providing a broad and balanced curriculum based around the Cornerstones Curriculum, a nationally recognised approach for delivering outstanding learning opportunities for children.
What is the Cornerstones Curriculum?
The Cornerstones Curriculum is a creative and thematic approach to learning that is mapped to the 2014 primary national curriculum to ensure comprehensive coverage of national expectations. It is based on a child-centred pedagogy called The Four Cornerstones and is delivered through Imaginative Learning Projects (ILPs) and Knowledge Rich Projects (KRPs), which provide a rich menu of exciting and motivating learning activities that make creative links between all aspects of children's learning. We believe children learn better when they are encouraged to use their imagination and apply their learning to engaging contexts. Our curriculum provides many learning challenges throughout the academic year that require children to solve problems, apply themselves creatively and express their knowledge and understanding effectively. Cornerstones also provide a rigorous skills and knowledge framework that outlines the end of year expectations in all subjects. These skills and knowledge are tied to activities and are age-related so that staff can track children's progress and identify their individual learning needs.
These are the following ILPs/KLPs that each Year group will be covering, each one will start with a 'memorable experience'.

Nursery: Can I have a dog?
How do I look after it? Children will explore these questions and more in this project about pets and how to care for them.
Reception: Do cows drink milk?
What are baby pigs called? Children will explore these questions and more in this project about life on the farm and the animals that live there.
Year 1: Childhood
This project teaches children about everyday life and families today, including comparisons with childhood in the 1950s, using artefacts, toys and a range of different sources. Children will compare their own experiences to those of children from the 1950's.
Year 2: Scented garden
Children will take part in some amazing activities linked to gardening and will be creating a delicious herb garden for everyone to enjoy. They will also explore the sensory world of plants and the environment developing their knowledge of the five senses, how plants grow, and how we can use them in everyday life.
Year 3: Rocks, relics and rumbles
This project teaches children about the features and characteristics of Earth's layers, including a detailed exploration of volcanic and tectonic activity. They will learn about different types of rocks and we will be looking at world maps, locating where volcanoes are and where earthquakes have happened around the world.
Year 4: Traders and raiders
This project will develop children's knowledge of Britain's early invaders and settlers. Children learn about Anglo-Saxon and Viking culture, chronology and key events. The children will be looking at the collapse of the Roman Empire in Britain, and how the Anglo-Saxons stood up against the Vikings. Children will also be using their geographical knowledge to help them with locating famous Saxon sites around the UK.
Year 5: Sow, grow and farm
This project teaches children about the features and characteristics of land use in agricultural regions across the world, including a detailed exploration of significant environmental areas. The children will become gardeners with a passion for growing and encouraging the environment, and will learn about sustainability and the way in which all different manner of food is grown and harvested. The children will also discuss food miles and where food comes from across the world.
Year 6: Revolution
Children will be taught about life in Victorian times developing their knowledge about Victorian culture, including significant people and inventions of the time. Children will explore and sample life in the Victorian times and much more!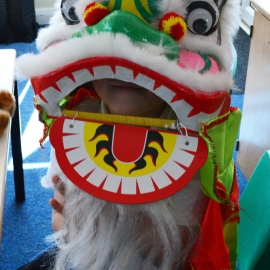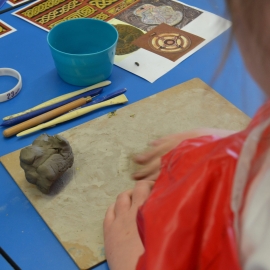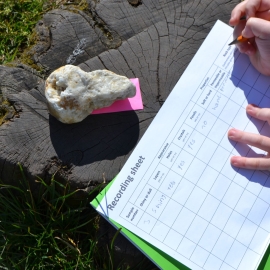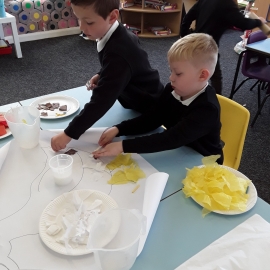 Help your child prepare for their project.